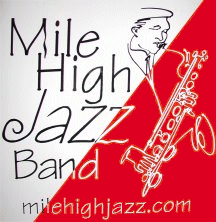 Features
Mile High Jazz Band Association
The Mile High Jazz Band Association formed in 2001 as a nonprofit corporation to support the MHJB and its subgroup, the Millennium Bugs (jazz combo), promote live jazz performance in northern Nevada, educate the public about jazz, and enrich the cultural life of the community. Member benefits include mailings, discounts on admissions, and invitations to special events, plus the satisfaction of helping big-band jazz to thrive!
To book the Mile High Jazz Band (big band) or Millennium Bugs (jazz combo), call 775-883-4154.
Press Releases and Comments
--- We Get Comments from Listeners ---

"My goodness, I had no idea you guys were so talented! An enjoyable (though rather warm) afternoon at the Capitol Rotunda (or whatever it's called). How nice MHJB was chosen to lead off this Sunday series. Good jazz and good company."
--C.T., Carson City, regarding MHJB's performance for the opening concert of the 2007 "Sunday Concerts in the Park" series
--- Press Releases ---

Press release for 12/9/08 Jazz and Poetry event - click here.