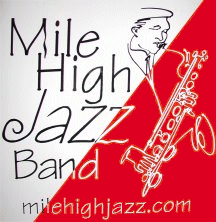 Features
"Jazz & Beyond: Carson City
Music Festival" (2016 to 2021)

Mile High Jazz Band
External Links
Carson City Arts & Culture Coalition (FB page)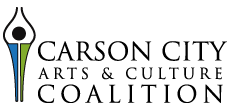 Sacramento Traditional Jazz
Society (STJS)

The Mile High Jazz Band Association formed in 2001 as a nonprofit corporation to support the MHJB and its subgroup, the Millennium Bugs (jazz combo), promote live jazz performance in northern Nevada, educate the public about jazz, and enrich the cultural life of the community. Member benefits include mailings, discounts on admissions, and invitations to special events, plus the satisfaction of helping big-band jazz to thrive!
To book the Mile High Jazz Band (big band) or Millennium Bugs (jazz combo), call 775-883-4154.
---
Mile High Jazz Band Association Updated Mission Statement - Adopted March 4, 2012, by the Board of Trustees:
Our mission is to enrich the cultural life of our community by promoting live jazz performance in and around Carson City; enhancing arts education in collaboration with other organizations and school programs; and supporting our resident big band, the Mile High Jazz Band, and its affiliated combos.
---
MHJB Assoc. Board and Officers
The MHJBA board, July 2021:
Trustees class of 2022: David Bugli, Rita Geil, Ted Xie
Trustees class of 2023: Ellie Bugli, Steve Hayes, Randy Seeber
Trustees class of 2024: Kelly Dodge, Jennifer Simkins, Doug Conner
(Class of 2024 elected at 7/25/2021 Annual Meeting)

Officers (elected at 8/30/2020 Board Meeting):
President: David Bugli
Vice President: Kelly Dodge
Treasurer: Ellie Bugli
Secretary: Jennifer Simkins
---
Mile High Jazz Band presents "Train of Thought"
at the Brewery Arts Center Performance Hall
Tuesday, Dec. 14, 2021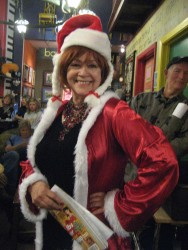 The Mile High Jazz Band will be performing a Jazz and Poetry Event. The performance is on Tuesday, Dec. 14, 2021, from 7:30 to 9:30 p.m. in the Performance Hall at the Brewery Arts Center, 511 W. King St., Carson City. Joining the band are six local poets who will be reading poems by themselves and by other notable poets. The readers are Rita Geil, Susan Sara Priest, Timothy Rhodes, Wayne Carlson, Terri Breeden, and Ursula Carlson. Each poem will be followed by a performance of a tune by the band, several of which feature vocalist Jakki Ford. Many of the tunes will include festive holiday favorites.
Tickets are $12 per person, and seating is limited. Tickets may be purchased online at milehighjazz.com (see below) or may be reserved by calling 775-883-4154. Tickets will also be sold at the door. Doors open at 7:10 p.m. The audience is required to wear masks, per current city and state COVID regulations.
Pianist and bandleader David Bugli said, "We are keeping this in the holiday tradition, but we will feature some non-holiday songs suggested by the poem just read or songs suggested by the theme, 'Train of Thought.'" Bugli continues, "We'd like to tell you the tunes we will be playing, but that would spoil the fun of the audience making the connections between the poems and the tunes that follow them. You need to be there to experience it." Solos will be performed by trumpeters Bill Melendres and Karl Rinder, trombonist Dominic Van Orman, saxophonists Rich Davis and Chris Guerra, and others.
Mile High Jazz Band is supported in part by a grant from the Nevada Arts Council and the National Endowment for the Arts. The Governor's Office of Economic Development provided additional support through its Nevada Pandemic Emergency Technical Support (PETS) Grant for 2021. For information about the band and its activities, see milehighjazz.com.
Photo: poet Rita Geil performing at a previous holiday Jazz & Poetry event.
---
Yearly Summary for the 2020-2021 Season Available
Posted: July 26, 2021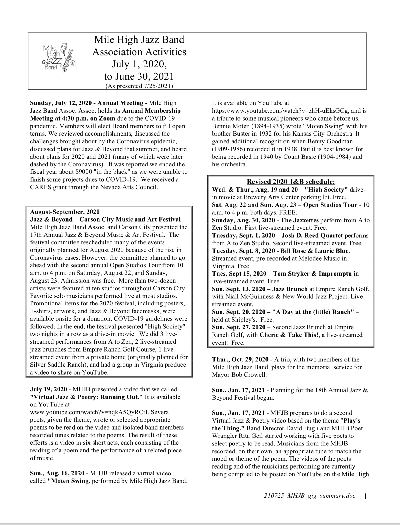 Each year, at the time of the Annual Meeting, we prepare a summary of the activity of the band, the festival, the board, and performers for presentation to the assembled group. The summary was presented at the July 25, 2021, Annual meeting. You can see a PDF of this by clicking HERE.
---
Second Virtual Jazz & Poetry, "Play's the Thing"
Planned (in post-production)
Revised post: 9/10/2021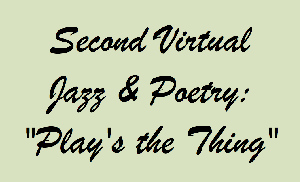 The Mile High Jazz Band is preparing to do a second Virtual Jazz & Poetry video based on the theme "Play's the Thing." Band Director David Bugli and MHJB Poet Wrangler Rita Geil are working with five poets to select poetry to be read. Musicians from the MHJB will record, on their own, an appropriate tune to match the mood or theme of the poem. The videos of the poets reading and of the musicians performing will then be compiled and posted on YouTube on the Mile High Jazz Band's new YouTube channel at https://www.youtube.com/channel/UCxNbOrzkkqfwwjhvoyPgWTQ.
The first Virtual Jazz and Poetry video, based on the theme "Running Out," was released in September 2020. It is available for viewing at https://www.youtube.com/watch?v=nqkA5QyRCtI.
Band members only! - Follow this link to the Second Virtual Jazz & Poetry "resource page" at http://milehighjazz.com/virtualjnp2.htm.
---
Normally, many MHJB and MHJB combo gigs are on the second Tuesday of each month from 7:30 to 9:00 or 9:30 p.m. Most of these are at Living the Good Life, 1480 N. Carson Street, Carson City. These events are subject to change, subject to pandemic conditions.
---
General Information
The Mile High Jazz Band, an 18-member "big band" composed of 17 instrumentalists and a vocalist, began performing in 1997. The group features music in the Count Basie-Duke Ellington-Woody Herman tradition, as well as more contemporary styles, selected from a repertoire of over 200 tunes. They play ballads, high-powered jazz tunes, and dance music arranged by Nestico, Niehaus, Taylor, and other great arrangers.
Mile High Jazz Band performs for community events, fundraisers, dances, receptions, private parties, and in concert. They have played benefits for New York Firefighters, Red Cross Disaster Relief, Carson-Tahoe Hospital Foundation, Douglas County Library Foundation, and the American Cancer Society's Relay for Life. They have been featured in concerts at the Brewery Arts Center and on the Carson City Symphony's "Holiday Treat" and "Pops Party" concerts. They play monthly at Comma Coffee and collaborate with local poets in quarterly "Jazz and Poetry" events, alternating poetry readings with related musical selections. Mile High Jazz Band has performed in Carson City, Reno, Minden, Fallon, Yerington, Stateline, Incline Village, Virginia City, and Crystal Bay.
In 2002, Mile High Jazz Band won "Best Band" award in Carson City's "Taste of Downtown." In 2003, American Composers Forum selected Mile High Jazz Band and Bella Voce women's choir for a national Continental Harmony project. In 2007, leader David Bugli received the Nevada Governor's Arts Award for Distinguished Service to the Arts, and the band played for the awards ceremony. Mile High Jazz Band plays annual benefits with the Carson High Jazz Band to help the high school band attend the Lionel Hampton Jazz Festival. Also, the Mile High Jazz Band Association founded and produces or co-produces the annual, multi-day Jazz & Beyond Music Festival in Carson City each August since 2004.
The band performs around the Carson City area. You can catch us on most second Tuesdays of each month at Living the Good Life, 1480 N. Carson Street, Carson City, or at Comma Coffee.
Millennium Bugs
The Millennium Bugs, a jazz combo associated with the Mile High Jazz Band, play a great variety of jazz styles. They performed for the Carson City Preservation Coalition/Historical Society, Olympic Torch Relay Ceremony in Carson City, Carson City Music Club, Westview block party, Camel Race Day in Virginia City, Carson Nugget showroom, Carson-Tahoe Hospital Foundation, Carson High Prom, BAC Beer Tasting, weddings, receptions, and parties.
---
Mile High Jazz Band Association board meetings are held quarterly. Call 775-883-4154 for details.
Help support the Mile High Jazz Band by placing your music orders through Sheet Music Plus. Just click on the link below to get connected.
---
The Mile High Jazz Band Assoc. is a member of the Carson City Downtown Business Assoc.

---