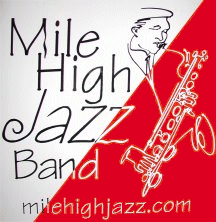 Features
"Jazz & Beyond: Carson City
Music Festival" (2016 & 2017)

Mile High Jazz Band
External Links
Carson City Arts & Culture Coalition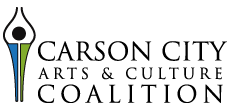 Sacramento Traditional Jazz
Society (STJS)

The Mile High Jazz Band Association formed in 2001 as a nonprofit corporation to support the MHJB and its subgroup, the Millennium Bugs (jazz combo), promote live jazz performance in northern Nevada, educate the public about jazz, and enrich the cultural life of the community. Member benefits include mailings, discounts on admissions, and invitations to special events, plus the satisfaction of helping big-band jazz to thrive!
To book the Mile High Jazz Band (big band) or Millennium Bugs (jazz combo), call 775-883-4154.
---
Mile High Jazz Band Association Updated Mission Statement - Adopted March 4, 2012, by the Board of Trustees:
Our mission is to enrich the cultural life of our community by promoting live jazz performance in and around Carson City; enhancing arts education in collaboration with other organizations and school programs; and supporting our resident big band, the Mile High Jazz Band, and its affiliated combos.
---
MHJB Assoc. Board and Officers
The MHJBA board, effective 6/26/2016:
Trustees class of 2017: Ellie Bugli, Susan Crowell, Nick Jacques
Trustees class of 2018: Kelly Dodge, Jennifer Simkins, Betty Young
Trustees class of 2019: David Bugli, Rita Geil, Gail Kane

Officers (elected at 9/29/2016 Board Meeting):
President: David Bugli
Vice President: Kelly Dodge
Treasurer: Ellie Bugli
Secretary: Jennifer Simkins
Mile High Jazz Band Presents Big-Band Jazz
and Anniversary Cake
Tuesday, April 11, 2017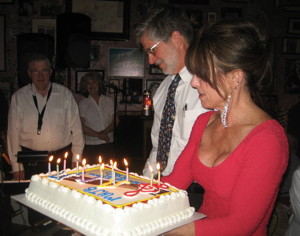 For 16 years, Mile High Jazz Band has been playing at Comma Coffee, 312 S. Carson Street, on the second Tuesday of every month. Come celebrate this milestone with us on April 11, 2017. Hear sensational big-band music with vocalist Cindee LeVal and enjoy anniversary cake at intermission. General admission is $5 at the door, and it's free for age 18 and under.
The Mile High Jazz Band includes trumpets, trombones, saxophones, keyboard, guitar, bass, drums, and singers. They will play about twenty tunes from their ever-expanding repertoire of selections in the style of Basie, Ellington, and more contemporary composers and arrangers.
The performance is supported, in part, with public funding through the Nevada Arts Council, a state agency, and the National Endowment for the Arts, a federal agency.
For information about the Mile High Jazz Band, call 775-883-4154, or visit their web site: MileHighJazz.com. For information about other live music at Comma Coffee, call June Joplin at 775-883-2662.
Photo: Comma Coffee owner June Joplin and Mile High Jazz Band pianist David Bugli with anniversary cake at Comma Coffee.
---
Jazz & Beyond – Carson City
Music and Art Festival
August 4-21, 2017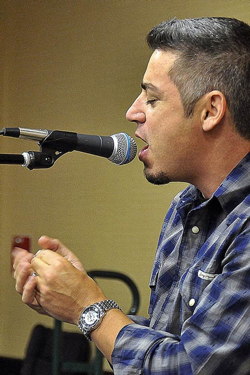 Media release – February 24, 2017: Mile High Jazz Band Association and Carson City present the 14th Annual Jazz & Beyond Festival. It features 18 days of Music, Art, and Film at multiple venues in Carson City, August 4-21.
"Jazz & Beyond is a homegrown event celebrating the talent of our region and relying on many local music fans who donate their time and effort," said committee co-chair David Bugli, President of the Mile High Jazz Band Assoc. "Sponsors and volunteers help us make the event one of the best in the area, and keep most performances admission free."
The festival opens on Friday, August 4, at the historic Bliss mansion, corner Mountain and Robinson Streets. An art show and sale on the porch at 4:00 p.m. features artists from the Capital City Arts Initiative and the Nevada Artists Association. Music on the lawn begins at 4:30 p.m. followed by by Cherie and John Shipley with Take This band at 6:30 p.m.
The Hohner Road Show, a 2-hour, indoor presentation hosted by blues harmonica pro Ronnie Shellist and artist manager Gizzy O'Toole will be on Sunday, August 6, at the Brewery Arts Center. The show is a mix of performance, teaching, and demonstration. It includes displays, harmonica giveaways, and hands-on instructional components. Following the road show, harmonica artist Tom Stryker will present outdoor blues and jazz band performances featuring Ronnie Shellist.
The second annual "A Day at the Silver Saddle Ranch," 2648 Carson River Road on the east side of Prison Hill, will be on Sunday, August 13, beginning at 3:00 p.m. Bluegrass and Western music, live animals, and food trucks will be featured.
Free concerts also will be held at the Legislative Plaza and Capital Amphitheater, Nevada State Railroad Museum, Carson Mall, Comma Coffee Courtyard, Bob McFadden Plaza, Brewery Arts Center, and other Carson City venues. A full schedule of events will be available on the website JazzCarsonCity.com. For sponsor and volunteer opportunities, call 775-883-4154.
Pictured: Harmonica great Ronnie Shellist will perform at the Jazz & Beyond - Carson City Music Festival at Brewery Arts Center on August 13.
---
Most Comma Coffee gigs are on the second Tuesday of each month from 7:30 to 9:00 or 9:30 p.m.
The next Jazz & Beyond Festival is scheduled for Aug. 4-20, 2017. Mark your calendars now.
---
General Information
The Mile High Jazz Band, an 18-member "big band" composed of 17 instrumentalists and a vocalist, began performing in 1997. The group features music in the Count Basie-Duke Ellington-Woody Herman tradition, as well as more contemporary styles, selected from a repertoire of over 200 tunes. They play ballads, high-powered jazz tunes, and dance music arranged by Nestico, Niehaus, Taylor, and other great arrangers.
Mile High Jazz Band performs for community events, fundraisers, dances, receptions, private parties, and in concert. They have played benefits for New York Firefighters, Red Cross Disaster Relief, Carson-Tahoe Hospital Foundation, Douglas County Library Foundation, and the American Cancer Society's Relay for Life. They have been featured in concerts at the Brewery Arts Center and on the Carson City Symphony's "Holiday Treat" and "Pops Party" concerts. They play monthly at Comma Coffee and collaborate with local poets in quarterly "Jazz and Poetry" events, alternating poetry readings with related musical selections. Mile High Jazz Band has performed in Carson City, Reno, Minden, Fallon, Yerington, Stateline, Incline Village, Virginia City, and Crystal Bay.
In 2002, Mile High Jazz Band won "Best Band" award in Carson City's "Taste of Downtown." In 2003, American Composers Forum selected Mile High Jazz Band and Bella Voce women's choir for a national Continental Harmony project. In 2007, leader David Bugli received the Nevada Governor's Arts Award for Distinguished Service to the Arts, and the band played for the awards ceremony. Mile High Jazz Band plays annual benefits with the Carson High Jazz Band to help the high school band attend the Lionel Hampton Jazz Festival. Also, the Mile High Jazz Band Association founded and produces or co-produces the annual, multi-day Jazz & Beyond Music Festival in Carson City each August since 2004.
The band performs around the Carson City area. You can catch us on most second Tuesdays of each month at Comma Coffee, across from the State Legislature Building.
Millennium Bugs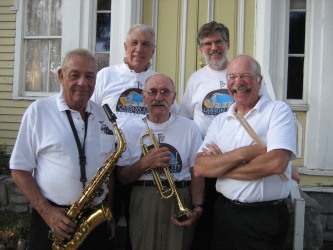 The Millennium Bugs, a jazz combo associated with the Mile High Jazz Band, play a great variety of jazz styles. They performed for the Carson City Preservation Coalition/Historical Society, Olympic Torch Relay Ceremony in Carson City, Carson City Music Club, Westview block party, Camel Race Day in Virginia City, Carson Nugget showroom, Carson-Tahoe Hospital Foundation, Carson High Prom, BAC Beer Tasting, weddings, receptions, and parties.
---
Mile High Jazz Band Association board meetings are held quarterly. Call 775-883-4154 for details.
Help support the Mile High Jazz Band by placing your music orders through Sheet Music Plus. Just click on the link below to get connected.
---
One Hundred Percent Giving Board Award for 2016 from Community Foundation of Western Nevada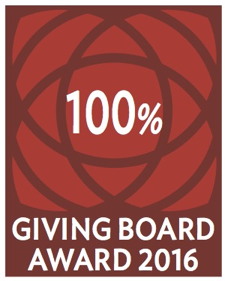 ---
The Mile High Jazz Band Assoc. is a member of the Carson City Downtown Business Assoc.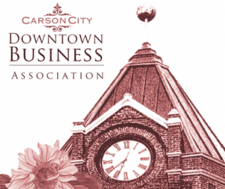 ---