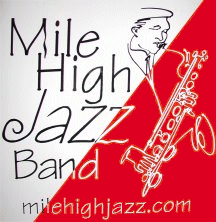 Features
"Jazz & Beyond: Carson City
Music Festival" (formerly
"Jazz! Carson City" music festival)

The Mile High Jazz Band Association formed in 2001 as a nonprofit corporation to support the MHJB and its subgroup, the Millennium Bugs (jazz combo), promote live jazz performance in northern Nevada, educate the public about jazz, and enrich the cultural life of the community. Member benefits include mailings, discounts on admissions, and invitations to special events, plus the satisfaction of helping big-band jazz to thrive!
To book the Mile High Jazz Band (big band) or Millennium Bugs (jazz combo), call 775-883-4154.
---
The Millennium Bugs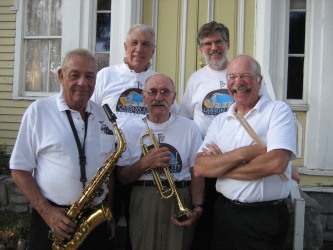 The Millennium Bugs, a jazz combo associated with the Mile High Jazz Band, have been playing a great variety of jazz styles together since the late 1990s. They performed for the Carson City Preservation Coalition/Historical Society, Olympic Torch Relay Ceremony in Carson City, Carson City Music Club, Westview block party, Camel Race Day in Virginia City, Carson Nugget showroom, Carson-Tahoe Hospital Foundation, Carson High Prom, BAC Beer Tasting, weddings, receptions, and parties.
Upper photo: The Millennium Bugs shown with our late drummer, Lee Warner, in front of the Foreman-Roberts House Museum in Carson City.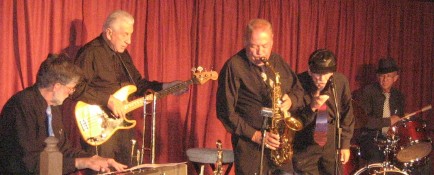 Lower photo: The Millennium Bugs shown with drummer Mark Ashworth at the Mark Twain Cultural Center in Incline Village (2010).

The Players
---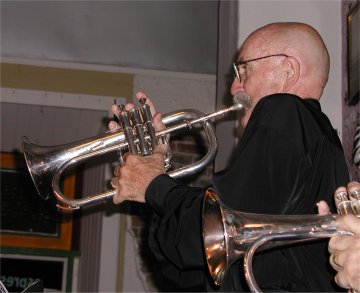 Gil Linsley - trumpet and flugelhorn - Rev. Gil Linsley started in the music business at age 15, leading his own band in southern California. At the Sands Hotel in Las Vegas, he played for Louis Armstrong, Vic Damone, Sammy Davis, Jr., Dick Haymes, Lena Horne, Peggy Lee, Jerry Lewis, Dean Martin and Frank Sinatra, to name just a few. He moved to Lake Tahoe in 1960 to join the house band at Harrah's and played for Nat "King" Cole, Mac Davis, Wayne Newton, Barbra Streisand, and others. He played with the "Jazz Guys" combo for Woodwind Sailing Cruises out of Zephyr Cover and played with several groups in the Reno-Tahoe-Carson area. He and his wife Gail are retired ministers with the Center for Spiritual Living in Carson City (where the Mile High Jazz Band occasionally rehearses).
**************
---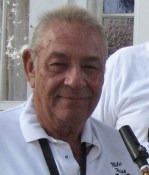 Dan Lancaster - alto & tenor sax, clarinet, and flute - Dan has a fantastic musical resume (in bullet format):
Began the study of clarinet at age 12 in Milwaukee, Wisconsin under Harvey Kruger.
Bought his first alto sax at age 14.
Got into jazz in Beloit, Wisconsin, where he played 1st clarinet in the concert band, lead alto in the jazz band, and was director of the basketball band.
Joined the Musician's Union at age 17 and played in combos and big bands in the Southern Wisconsin area.
Dan was principal clarinet in the Wisconsin Allstate band and Allstate Orchestra in 1954.
Received a Bachelor of Music degree from Hardin-Simmons University in 1959. While at HSU Dan played first chair clarinet in university bands, and was a featured soloist in his senior year. Dan played lead alto in their jazz band which did a USO tour in December of 1957. Dan played in the Freddie Woolridge band and the Jack Free orchestra while in college and also performed on a weekly musicial TV show for 2 years.
Dan spent the summer of 1957 in Pittsburgh Pennsylvania playing in the National Wind Ensemble, a position he gained through national auditions.
Dan played lead alto with the Al Galante Orchestra from Chicago in the summer of 1958.
1959-1962 Dan was principal clarinet in the Fourth Army band and Lead alto in their jazz band. During this time Dan also toured the 4th Army area with a jazz octet backing Steve Lawrence.
1962-1967 junior high band director and assistant high school director in Andrews, Texas.
1966-67 did graduate work at University of Colorado during the summer while playing principal clarinet in the University Orchestra.
1968 taught clarinet and Sax on a graduate assistantship at Texas Tech University.
1968 played lead alto with the Ralph Marterie Orchestra.
1969-72 played with various bands and combos in the West Texas area.
Principal clarinet with the Midland-Odessa Symphony for 8 years.
Dan has also played in many musicials and several times with the Ice-capades.
1972-1974 traveled with a quartet called the Hamiltons. This group made the Beverly Hillcrest their home for 8 months of each year.
1974 moved to Las Vegas and played in the house band at the Sands Hotel Casino.
1975-1980 played weekends at the Mount Charleston Lodge in Las Vegas, Nevada.
1990-1996 played weekends at the Christmas Tree in Reno, Nevada.
Since 2000 with the Mile High Jazz Band (with a break) and the Jazz Guys.
Since 2009, first clarinet with the Carson City Symphony.
Dan plays clarinet, alto & tenor Sax, and flute.


**************
---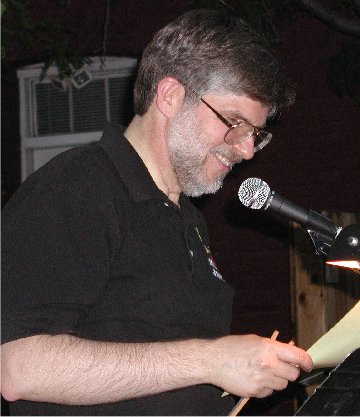 David Bugli - piano and trombone - has a Bachelor of Science Degree in music education from Ithaca College, New York, where he studied composition for four years with Karel Husa. He has a Master of Music Degree from the University of Massachusetts. He has participated in Conductors Workshops presented by the American Symphony Orchestra League in San Francisco and St. Louis. In addition to conducting, he plays classical and jazz piano, tuba, and trombone, and he composes and arranges music.

David Bugli conducts the Carson City Symphony and was Assistant Conductor of the Foundation Orchestra in Reno. For the Carson City Symphony, he arranges music that features guest artists on the Symphony's annual Holiday Treat and Pops Party concerts. In the past he organized the annual Reno TubaChristmas event and led the annual Capitol Tree Lighting on the steps of the Nevada State Capitol in Carson City. The latter featured performances by the Holiday Brass Ensemble (generally about two dozen players) and a group of about two hundred elementary school singers. Along with his wife Ellie, and with the Brewery Arts Center, he has been instrumental in creating and running an annual multi-day jazz festival in Carson. Originally called "Basie @ 100" (2004) and "Basically Basie" (2005), the festival is now called "Jazz & Beyond" and features over 20 performances. He is the recipient of the 2007 Nevada Governor's Arts Award for Distinguished Service to the Arts.


**************
---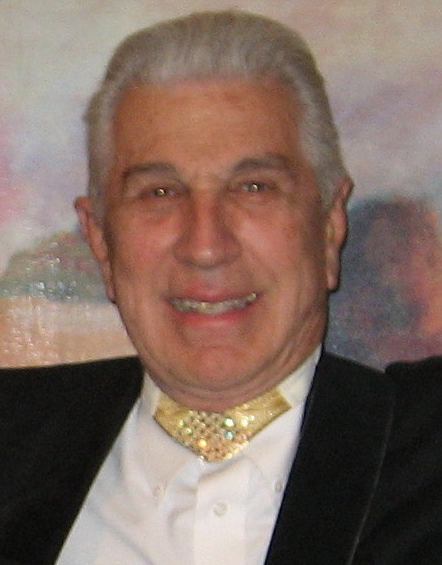 George Worth - bass and valve trombone - Dr. George Worth has been bass player for the MHJB, on and off, for several years. He also plays trombone and tuba. He worked professionally in the music business for many years.

George was born in Utica, N.Y. When he went into the Air Force in 1950, he was part of a musical group that played at the officers' club and the NCO club, where he played string bass, tuba, slide trombone, and drums. Later, he was in the band at Edwards Air Force Base. When he got out, he formed a group called the Kings IV, which headlined at Lake Tahoe. The group was in business for 18 years and opened for Judy Garland, Sammy Davis Jr., Frank Sinatra, and Danny Thomas. The group played the Sahara when it opened in the mid '60s.

George got into chiropractics "because it was something I could do that I could control and still give something to people." He has been practicing chiropractics in South Lake Tahoe since 1973. (His website is at http://www.laketahoechiropractor.com.)

He is or was active in several musical groups, including the Carson City Symphony, the Jazz Guys, the Millennium Bugs, 9th St. Jazz Band, the Carson Valley Pops Orchestra, and Dr. Worth & His Medicine Band. He has been known to play electric bass and valve trombone at the same time.

George retired from the Mile High Jazz Band the summer of 2011.
**************
---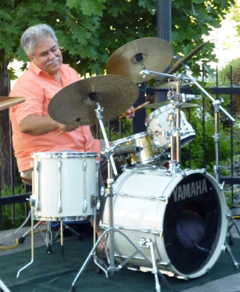 Neil Strocchio - drums - Neil is a busy drummer who is in a lot of demand. He plays drums in the Mile High Jazz Band and appears frequently with performers like John & Cherie Shipley and Judith & Rocky (Judith Ames and Rocky Tatarelli). He brings a lot of enthusiasm and rhythmic skill to all his performances, and his smile when playing is infectious.
**************
---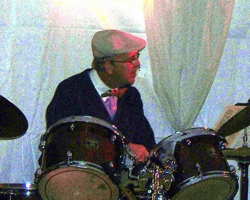 Mark Ashworth - drums (first-call sub) - Mark is a born entertainer. He is the driving force behind Lucky Diamond and The Gents o' Jive, a '20s and '30s hot jazz band. Lucky Diamond and The Gents o' Jive has been performing since the grand opening of the Silver Legacy Resort Casino in 1995. Hired by Circus Circus, initially for three days, the act stayed for 18 months. Since then, they have appeared for private parties and corporate events in the Reno-Tahoe area, including the Cadillac Ball in Truckee, and New Year's Eve at Sharkey's. He also plays with The Jazz Guys, a quartet which plays everything from Dixie and be-bop to bossas and big-band swing. Mark is also known for his emcee-ing abilities where he does a Bob Hope-like routine (complete with golf club) in the persona of "Bob Hopeless."
**************
---
Audio samples of the Millennium Bugs
The following were recorded with Mark Ashworth on drums.
The Preacher, by Horace Silver - performed by the Millennium Bugs 10/2/2010
at the Mark Twain Cultural Center, Incline Village, Nev.
The Days of Wine and Roses - performed by the Millennium Bugs 9/11/2010
at the Mark Twain Cultural Center, Incline Village, Nev.
Oh, Lady Be Good, by George & Ira Gershwin - performed by the Millennium Bugs 10/2/2010
at the Mark Twain Cultural Center, Incline Village, Nev.
Back Home Again in Indiana - performed by the Millennium Bugs 10/2/2010
at the Mark Twain Cultural Center, Incline Village, Nev.
---
A comment from a satisfied customer:
"Thank you again gentlemen. You were absolutely awesome!"
- Tami Castillo Shelton, Program Director, Brewery Arts Center