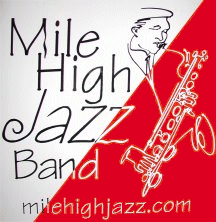 Features
"Jazz & Beyond: Carson City
Music Festival" (2016 to 2023)

External Links
The Mile High Jazz Band Association formed in 2001 as a nonprofit corporation to support the MHJB and its subgroup, the Millennium Bugs (jazz combo), promote live jazz performance in northern Nevada, educate the public about jazz, and enrich the cultural life of the community. Member benefits include mailings, discounts on admissions, and invitations to special events, plus the satisfaction of helping big-band jazz to thrive!
To book the Mile High Jazz Band (big band) or Millennium Bugs (jazz combo), call 775-883-4154.
---
**** Alumni listed in alphabetical order ***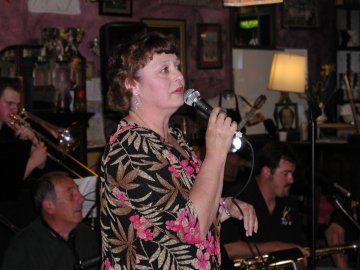 Sheryl Adams - vocals
Sheryl Adams studied theater and musical comedy at San Francisco State University. She was a member of Group Repertory Theater, appeared in shows, films, and television, and directed a theater program for the Downtown Women's Center in Los Angeles. She studied singing with Joe Newman and Oscar Robinson, and jazz stylings with Carol Ettman in Reno, and sings with several big bands, combos, and duos. She has sung with Brian Farnon's Big Band; the Reno Municipal Big Band, Dixieland, and small swing bands; the "Satin Dolls" a capella trio; "Three Mezzos in concert: I, II, and III," and the "Fine and Mellow" combo. In 2008, she completed a theater degree at the University of Nevada, Reno, where she appeared in a number of theater productions there (including "The Threepenny Opera").

Sheryl first started rehearsing with the band in 1999. She retired from the band in September 2014.
**************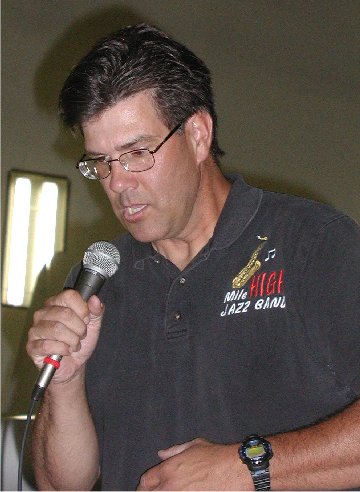 Mike Allen - trombone - Mike wrote the following: I received my first musical instrument at the age of ten; it was a guitar. Then in junior high school I began playing a baritone horn. The individual that recruited me was Kevin Workman, and my first music director was Harry Stover. Through the efforts of my father and the school music director's suggestions, I began commuting to Reno from where I lived to play with the Reno Municipal City Band on numereous occasions and later, in High School, the trombone became the instrument of choice. I received instruction and lessons for playing the trombone from Leo Elmen of Maytan Music, and later Mac McGrannhan III of the University of Reno music department. I participated in a once-in-a-lifetime trip to New York City to play with the McDonald's All-American High School Marching Band in 1976 under the direction of Paul Lavaell.

Years later I returned to play horn again with various local jazz bands and (small) big bands in which I had so graciously and humbly been allowed to take part. An owing of gratitude has to be given to the likes of those people that ran the bands and they are: Larry Holloway, Mel Hilbert, Barbara Molt, Brian Farnon, Al Smith, Danny Yale, and David Bugli. Other influences came from the local barbershopper's quartet chapter as well as Church and from time to time friends playing popular rock music with guitars, drums and mayhem. Jazz has and continues to be always a favorite genre and the opportunity for me to play my trombone alongside such wonderful talent has always been a great privilege.

Ed.: Besides being a fine trombonist, Mike sometimes takes on additional duties as vocalist with the band.
**************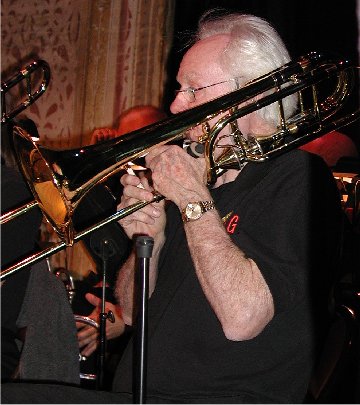 Curt Barnes - bass trombone - Curt Barnes played tenor trombone in swing and dance bands in Los Angeles and in the Army. He played bass trombone in the community stage band in Mt. Shasta, Calif., and in the Tahoe Community Orchestra and Tahoe Big Band. Barnes is married happily to Hillis, and has four children and three grandchildren. Barnes feels privileged to "blow my horn with very high caliber musicians in the Mile High Jazz Band" and to continue to develop his musical skills. He also has a passion for skiing, takes to the slopes daily in the winter, and runs House of Ski up at Lake Tahoe (at Highway 50 and Kingsbury Grade, Stateline, NV).
**************

Will Cates - trumpet - Will plays lead trumpet with the Mile High Jazz Band, which means he is responsible for leading the trumpet section and playing a lot of high notes. He teaches public school music and also plays in TOCCATA.
**************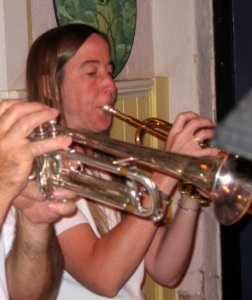 Joi Cerveri - trumpet - Joi works at the Grand Sierra (the old Reno Hilton) and enjoys performing in a number of local groups.
**************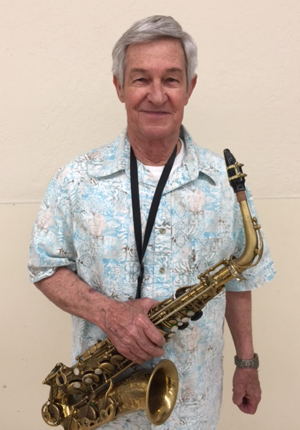 Rich Davis - lead alto sax (plus flute and clarinet, early in his stint with the band)
Richard Lane Davis joined The Mile High Jazz Band and The Tahoe Dance Band in 1999 and still performs with both groups. Other current affiliations include the Sierra Swing Band and the Joel Gray Big Band. Rich began studying clarinet in 4th grade and added saxophone in the 7th grade. He kept busy in junior high and high school bands, as well as the South Gate Youth Band for seven years and the Aristocrats Dance Band in junior and senior high.

Rich served three years in the U.S. Army Band from 1963 to 1966 and studied at the Naval School of Music in Washington, D.C. He was in the 8th Army Band in Korea and the 36th Army Band in Ft. Huachaca, Arizona. He later enjoyed 21 years in a big dance band called The Bell-Aires in Los Angeles, California.

Rich retired from the band in June 2023.
**************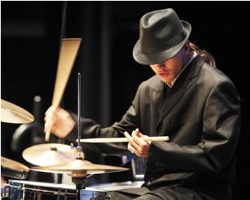 Brandon Dodge - drums - Brandon Dodge started playing at the age of 10 when he received a drum kit for Christmas. He sharpened his chops as part of the CHS band program as a member of the jazz, marching, and concert bands. He was a part of the high school all state music performance at UNLV. Brandon can also be found joining in other local groups and jazz jams in the Carson City area.

He is currently (2014) studying percussion with Dr. Andrew Heglund at the UNR. He graduated from Carson High School in 2013.
**************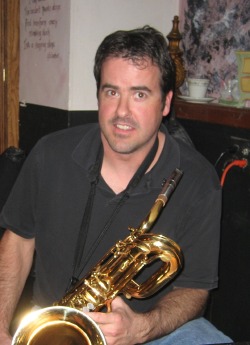 Casey Finnerty - baritone sax - Casey Finnerty is one of the original MHJB members. He writes the following about himself:
"I started playing in the MHJB back in 1997 originally on the 2nd alto chair, which evolved to several years playing the 2nd tenor chair. In the fall of 2009, the coveted baritone chair became available, and I jumped on it. Now I love anchoring our talented sax section playing on the big horn. It has brought on a new challenge for me and I have enjoyed every bit of it. I also have big band experience with Russ Lindquist's Sierra Swing Band and the Tahoe Dance Band. I also enjoy playing at the local open mic jams around the area. I am a lifetime Carson City resident and longtime State of Nevada employee."
**************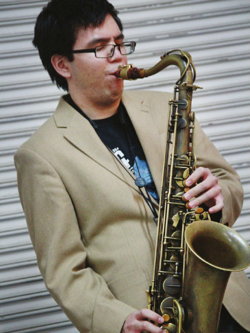 Derek Fong - tenor sax - Derek joined the MHJB in early 2015. He started out on clarinet and is a 2010 graduate of Vacaville (CA) High School. He is a student at the University of Nevada, Reno. He performed with the UNR jazz band in April 2015 at American River College, where he was a jazz studies major in 2012. Derek got to play with Wynton Marsalis when the legendary jazz musician dropped by the Vacaville Jazz Festival in 2010. Derek can be seen and heard playing soprano sax with his quartet on "Summertime" at the 2012 Vacaville Jazz Festival on YouTube.
**************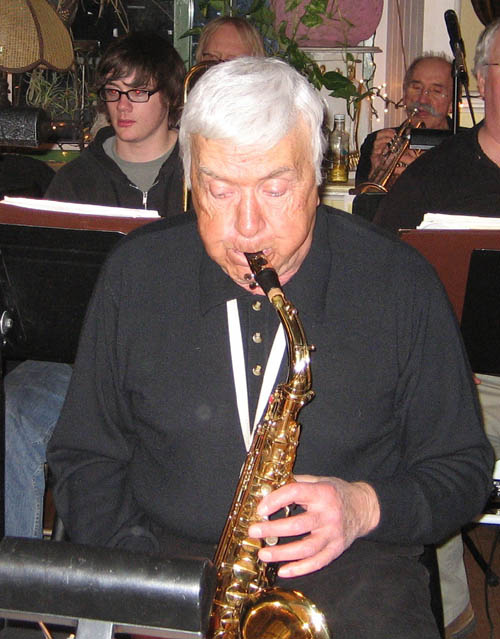 Speedy Garfin - alto sax
Howard "Speedy" Garfin, creator and leader of the legendary Garfin Gathering, was inspired to take up music by Benny Goodman at nine years old. His folks had an old 78 album, a Benny Goodman Sextet, and he used to fall asleep to it practically every night. The clarinet was his first instrument. He's been playing professionally since he joined the union in New York, when he was 15. He attended the famed High School for Performing Arts, and when he was in his teens he got together with bands which would go up to the Catskills and play at the resorts in the summertime. He went on the road at 17 with trios and quartets. He was drafted into the army and continued playing through the service for two years. His quintet won an all-Army entertainment contest. He was on tour for a year conducting a pit band for a year calling "The Rolling Along Show" in 1958. The show was made up of all army personnel, and was somewhat like a Broadway show with special lyrics and music. It was put together in New York City, and the ensemble took it on the road and performed wherever there was an army base. They did one-nighters for a year. His band played on the Ed Sullivan Show, and when he was discharged he went back to work with a Latin band playing in Brooklyn, New York. That's when he switched to saxophone and when he started listening to jazz artists. His favorite alto sax player turned out to be Paul Desmond, with the Dave Brubeck Quartet. He started playing lounges in Las Vegas and Lake Tahoe in 1960. (He had come out from New York with Don Rickles to back him. He had set his sights on moving out of New York and getting on the Nevada circuit, what they called the "Silver Circle," playing Las Vegas, Reno, and Lake Tahoe.) In 1965 he was in a quartet called the "Cary Garfin Four." When that group disbanded, after being together for 6 years, he put together the Garfin Gathering in 1971. Lynda Carter, AKA "Wonder Woman," was one of the original members of that group. (Basic source of information: Interview with Speedy posted at http://www.wonderland-site.com/html/interviews2.htm.)

More information on Speedy can be found in the "Nevada Appeal" article of March 31, 2011. Click here to access it.

Speedy retired from the band in June 14, 2011.
2/19/21 - Speedy died after a fall; he was 86.
**************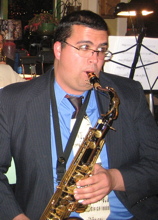 Nick Jacques - tenor sax - Nick teaches band and orchestra at Carson Middle School.
**************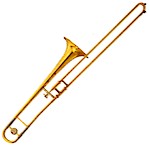 Rylan Kane - bass trombone - Rylan Kane is a student at Carson High School. In addition to bass trombone, he also plays tuba. He played tuba with the Reno Philharmonic Youth Orchestra on their spring 2016 concert in Carnegie Hall.
**************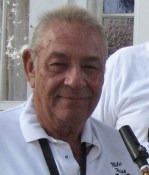 Dan Lancaster - lead tenor sax - Dan has returned to play with the MHJB after a hiatus. Here's his fantastic musical resume (in bullet format):
Began the study of clarinet at age 12 in Milwaukee, Wisconsin under Harvey Kruger.
Bought his first alto sax at age 14.
Got into jazz in Beloit, Wisconsin, where he played 1st clarinet in the concert band, lead alto in the jazz band, and was director of the basketball band.
Joined the Musician's Union at age 17 and played in combos and big bands in the Southern Wisconsin area.
Dan was principal clarinet in the Wisconsin Allstate band and Allstate Orchestra in 1954.
Received a Bachelor of Music degree from Hardin-Simmons University in 1959. While at HSU Dan played first chair clarinet in university bands, and was a featured soloist in his senior year. Dan played lead alto in their jazz band which did a USO tour in December of 1957. Dan played in the Freddie Woolridge band and the Jack Free orchestra while in college and also performed on a weekly musicial TV show for 2 years.
Dan spent the summer of 1957 in Pittsburgh Pennsylvania playing in the National Wind Ensemble, a position he gained through national auditions.
Dan played lead alto with the Al Galante Orchestra from Chicago in the summer of 1958.
1959-1962 Dan was principal clarinet in the Fourth Army band and Lead alto in their jazz band. During this time Dan also toured the 4th Army area with a jazz octet backing Steve Lawrence.
1962-1967 junior high band director and assistant high school director in Andrews, Texas.
1966-67 did graduate work at University of Colorado during the summer while playing principal clarinet in the University Orchestra.
1968 taught clarinet and Sax on a graduate assistantship at Texas Tech University.
1968 played lead alto with the Ralph Marterie Orchestra.
1969-72 played with various bands and combos in the West Texas area.
Principal clarinet with the Midland-Odessa Symphony for 8 years.
Dan has also played in many musicials and several times with the Ice-capades.
1972-1974 traveled with a quartet called the Hamiltons. This group made the Beverly Hillcrest their home for 8 months of each year.
1974 moved to Las Vegas and played in the house band at the Sands Hotel Casino.
1975-1980 played weekends at the Mount Charleston Lodge in Las Vegas, Nevada.
1990-1996 played weekends at the Christmas Tree in Reno, Nevada.
Since 2000 with the Mile High Jazz Band (with a break) and the Jazz Guys.
Since 2009, first clarinet with the Carson City Symphony.
Dan plays clarinet, alto & tenor Sax, and flute.

Dan retired from the band Aug. 20, 2011
**************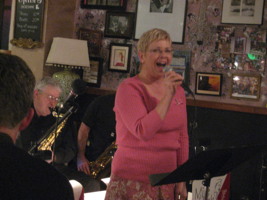 Cindee LeVal - vocals - Cindee comes from a musical family. Both of her parents were professional musicians (trumpet players). She played flute from elementary school through college at Cal State Hayward, earning top honors in competitions, and sang in a musical variety group in High School where she met her husband Scott. Cindee has enjoyed singing both in church and with local jazz bands and combos. Currently, she sings with the Mile High Jazz Band of Carson City, the Joe Gray Big Band of Reno, and Rosebud's Dance Band of Gardnerville. She soloed with the Carson City Symphony on its June 2014 Pops Party Concert at the Governor's Mansion. The rest of the time she's just Grammy.
**************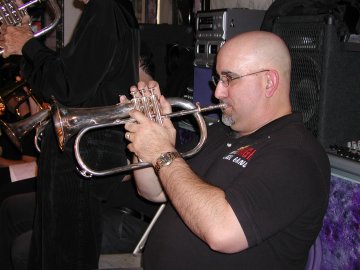 Scott Le Val - Scott Le Val studied trumpet under Larry Souza in San Carlos, Ca., and Zane Woodward in Fremont, Ca. He played in several Bay Area Funk and Soul bands. He studied music at Chabot Jr. College. Scott had lead roles in musical productions for the Diablo Valley Civic Light Opera (Walnut Creek), Alterena Little Theater (Alameda), Livermore Community Theater, etc., and he toured Asia with a musical comedy group, The Town Criers. He does kitchen cabinetry work in Carson City.
**************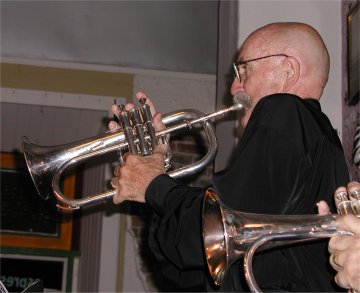 Gil Linsley - Rev. Gil Linsley started in the music business at age 15, leading his own band in southern California. At the Sands Hotel in Las Vegas, he played for Louis Armstrong, Vic Damone, Sammy Davis, Jr., Dick Haymes, Lena Horne, Peggy Lee, Jerry Lewis, Dean Martin and Frank Sinatra, to name just a few. He moved to Lake Tahoe in 1960 to join the house band at Harrah's and played for Nat "King" Cole, Mac Davis, Wayne Newton, Barbra Streisand, and others. He played with the "Jazz Guys" combo for Woodwind Sailing Cruises out of Zephyr Cover and played with several groups in the Reno-Tahoe-Carson area. He and his wife Gail are retired ministers with the Center for Spiritual Living in Carson City (where the Mile High Jazz Band used to rehearse).

Gil died July 1, 2019.
**************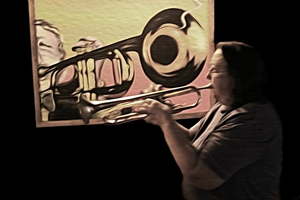 Barbara Molt - Barbara Molt is a graduate of Berklee College of Music in Boston, MA., where she received a Bachelor's Degree in Music Performance. She also holds a Certificate of Recording Engineering from The Grove School of Music in Van Nuys, CA, and worked as a sound engineer at John Ascuaga's Nugget in Sparks, NV. She has been the director of the Truckee Meadows Community College Jazz Ensemble for more than ten years. She was previously the director and lead trumpet player of the Sierra Society Swing Band in Carson City. Along with playing in the Mile High Jazz Band, she is currently a member of the Reno Municipal Band, plays lead trumpet in the Let's Dance Band, and subs in various other bands in the area. Her playing repertoire includes orchestra, concert band, rock bands, funk bands, pit orchestra, brass quartet/quintet, studio work and of course big bands.
**************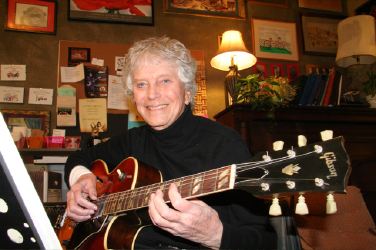 Jacki Montgomery - guitar - When it came time to add a guitar to the rhythm section, we were fortune to find the talented Jacki Montgomery. She was an avid pilot, as well as being an excellent musician with years of studio experience.
Jacki retired from the band in June 2010. Jacki died Oct. 8, 2014, after battling cancer.
**************


Ross Price - tenor sax - Ross is a well-versed reed player. For a number of years he was the principal bassoonist with the Carson City Symphony, and he had majored in bassoon in college. He also played alto, tenor, and baritone saxes and clarinet. He taught elementary students for a number of years before retiring.

Ross died 3/13/2019.
**************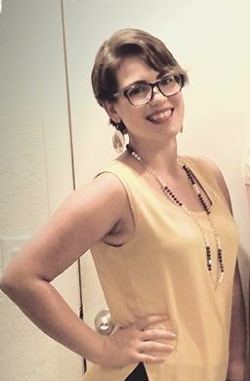 Stephanie Reynolds - bass trombone - Stephanie comes from a highly musical family. She joined the MHJB on a regular basis in May 2014. She is a graduate of Carson High School. She studies music education at the University of Nevada, Reno and does substitute teaching in the Carson City School District. She is the Conductor of the Carson Valley Pops Orchestra. She served as the MHJB Librarian.
**************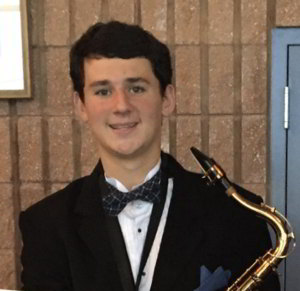 Jacob Richetta - tenor sax - Jacob first started subbing with the Mile High Jazz Band while in Carson Middle School. He is now in Carson High School. His solos on tenor sax show a maturity beyond his years. For his senior project at CHS, he rebuilt a truck.
**************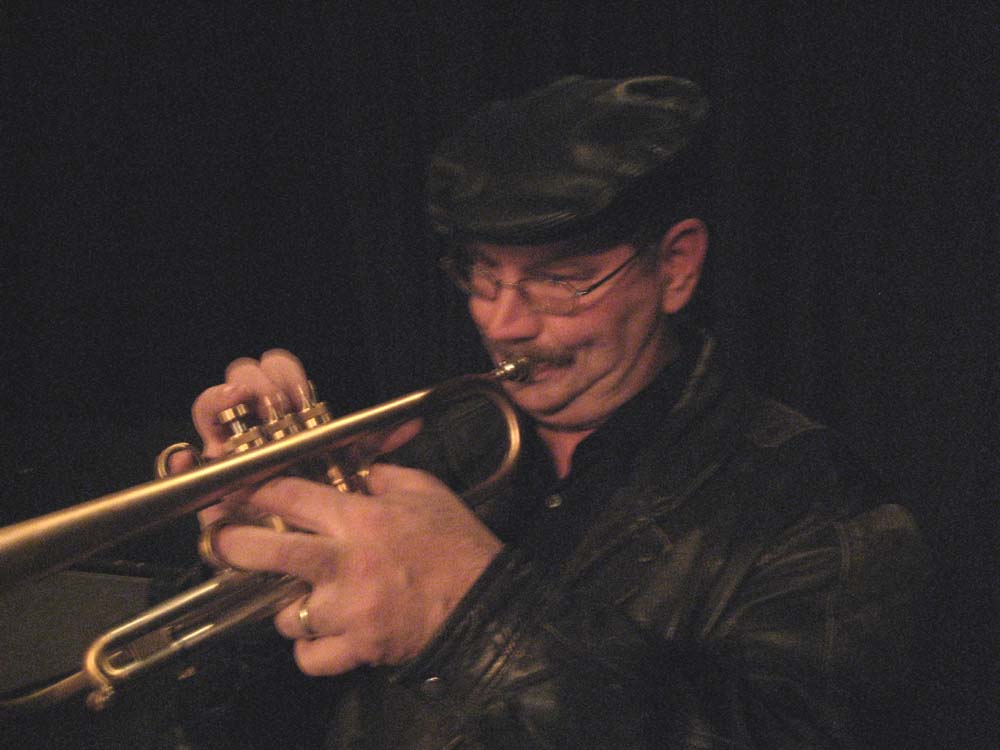 Richard Sheldrew - Rich is retired from the Nevada State Department of Transportation. He also performs with the Carson Valley Pops Orchestra and Rosebud's Dance Band (which is named after his donkey).
**************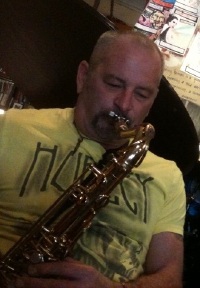 Joseph (Jojo) Shelley - lead tenor sax (plus flute) writes:
"I'm sure I heard jazz in the womb. My mother was an amateur jazz singer in the bay area and my father played Dizzy, Shaw, Herman and all the other jazz greats constantly throughout the years."

Joe was born in Oakland California in 1951, and grew up surrounded by music. His sisters were both woodwind players and his brother played a mean piano as well.

Choosing sports rather than music, Joe went through his high school days heavily involved in field and track. It wasn't until discharge from the Navy in 1972 that he developed an interest to play the favorite instrument of his, the saxophone.

Joe attained his inspiration to learn to play a saxophone while on a midnight walk through the streets of San Francisco. The soloist was nowhere to be seen due to the maze of buildings and fog which cloaked the city that evening but the voice was mesmerizing. The rest is history.

Joe played for community bands to get his "chops" working and attended San Francisco City College to gain experience in jazz formats.

Joe continues to enjoy playing his horns in the Georgia/Florida area.
**************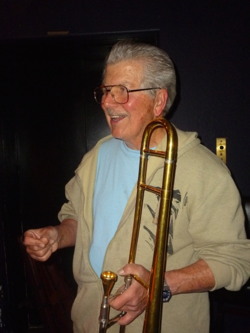 Don Smaltz - trombone - Don joined the MHJB on a regular basis in January 2015. He grew up in Lebanon, PA, the heart of the Pennsylvania Dutch Country. He started playing Boogie Woogie piano at age 5 and was performing publicly at age 8, playing Boogie Woogie and doing singing impersonations of Al Jolson. After his parents required him to study classical piano at age 13, he switched to trombone playing in the Junior and Senior High School marching & concert bands and the school orchestra. In high school he formed a Dixieland band that appeared on the Paul Whiteman show. At Penn State Univ. he formed a band which played in a variety of venues and paid his way through college and then law school.

Following his admission to the Bar, he served in the JAGC Corps and, when his tour of duty was completed, moved to Los Angeles as an Assistant US Attorney and became a federal prosecutor. Three years later he transitioned to private practice.

Don's family obligations (wife and eventually 4 daughters) and his professional obligations did not allow any spare time for trombone practice. After 30 of absence from the trombone, Bill Watrous encouraged him to begin playing again and directed him to Roy Main to study jazz trombone. When Roy moved from the Los Angeles area, Don began studying with Bill at the USC Jazz Institute. While in the LA area he played with the Pacific Coast Jazz Band VI and a variety of big bands.

His wife Lois retired as a Superior Court Judge in 2007 and they moved to Sequim, WA, where he continued to play in big bands and small groups until moving to Reno in 2013.
**************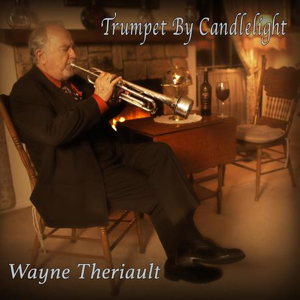 Wayne Theriault - Wayne Theriault (pronounced "Terry-oh") plays the principal jazz trumpet solo chair in the Mile High Jazz Band. He has extensive experience playing in military bands and playing various gigs around the region. He is often heard with the MHJB playing exciting and highly improvised solos. His album of ballads, "Trumpet by Candlelight," shows off his mellower and beautifully controlled style of playing.
**************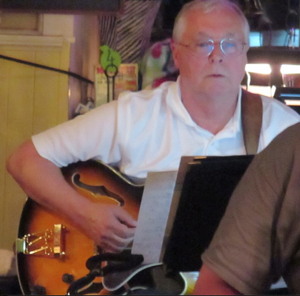 Bruce Theriot - guitar - Bruce joined the MHJB on a regular basis in July 2014. He is retired lawyer, living in Gardnerville. He studied at Western Connecticut State University (music and social sciences) and Vanderbilt University Law School. He was a senior attorney and director of the artist contract section of Capitol Record's law department. Before leaving the EMI-Capitol organization, he had advanced to become the Senior Vice President Business Affairs and A&R Administration for Manhattan Records as well as Blue Note and Windswept Pacific Records - all Divisions of EMI-Capitol Records. Subsequently, he went on to become President of Filmtrax Copyright Holdings, a music publishing company, later bought and incorporated into EMI Music Publishing. From there, he went to Universal Music Group and became VP of Business & Legal Affairs - the position from which he retired.

Bruce started playing in garage bands in high school and, after that, continued to play in small groups and in jazz ensembles while in the service, college and at law school. After law school and for the next thirty years as an executive and attorney in the entertainment industry, career demands took over, keeping guitars, for the most part, in their cases save for a now-and-then nostalgic strumming session. When he retired from Universal Music, the company surprised him a new Gibson, Custom Shop, B.B. King Artist Signature Model Guitar. (As Bruce says, "Maybe somebody was trying to tell me something?") Happily, the retirement door opened wide allowing him to get back to spending time with the guitar (now out of its case) and time to focus and work once again on music.

Following the post retirement move to Gardnerville, from Los Angeles, Bruce had the opportunity, from time to time, starting in the fall of 2012, to play as a substitute guitarist for the Mile High Jazz Band. In 2014, he was, in his own words, "lucky enough to be able to join the Band as its guitarist."

Regarding his favorite guitarists - all time, hands down, Joe Pass. However, lots of listening time spent with the likes of: Freddie Green, Herb Ellis, Jim Hall, B.B. King, Wes Montgomery, Kenny Burrell, Barney Kessel, Django, and many others.
**************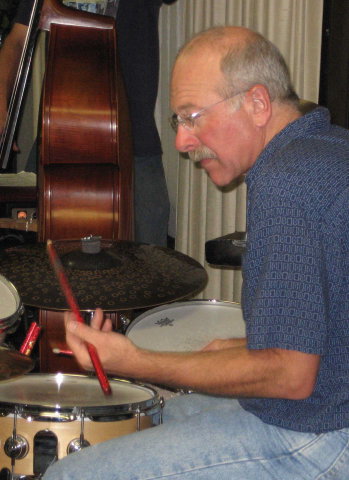 Lee Warner - drums - Lee played his last gig with MHJB on April 14, 2015, and died from brain cancer on May 11, 2015, after a courageous battle with the disease. Lee joined the band on a regular basis in 2006, left the band in 2012, but returned the next year. Lee taught private drum lessons from 1971 until a few days before his death, and at Maytan Music from March 2000 to 2014 (when the store closed). He had about 40 students, and he always welcomed new students of all ages. Lee played the drums in groups around the Reno area, including 50s band "Papa Clutch and the Shifters."

His teaching at Maytan's gave him a chance to pursue his three greatest passions: music, children, and teaching. He was part of the ten-piece Maytan Soul Band, which includes many Maytan teachers and employees. It is a horn band like Tower of Power. They presented concerts of funk and soul music (James Brown, Stevie Wonder, Average White Band, etc) in local elementary schools. They also did clinics for middle school and high school music classes.
**************


David Wilson - trombone - David Wilson is an author with an interest in African subjects.
**************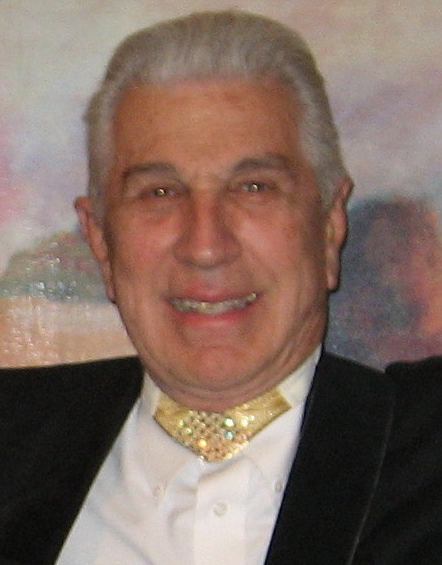 George Worth - bass - Dr. George Worth has been bass player for the MHJB, on and off, for several years. He also plays trombone and tuba. He worked professionally in the music business for many years.

George was born in Utica, N.Y. When he went into the Air Force in 1950, he was part of a musical group that played at the officers' club and the NCO club, where he played string bass, tuba, slide trombone, and drums. Later, he was in the band at Edwards Air Force Base. When he got out, he formed a group called the Kings IV, which headlined at Lake Tahoe. The group was in business for 18 years and opened for Judy Garland, Sammy Davis Jr., Frank Sinatra, and Danny Thomas. The group played the Sahara when it opened in the mid '60s.

George got into chiropractics "because it was something I could do that I could control and still give something to people." He has been practicing chiropractics in South Lake Tahoe since 1973. (His website is at http://www.laketahoechiropractor.com.)

He is active in several musical groups, including the Carson City Symphony, the Jazz Guys, the Millennium Bugs, 9th St. Jazz Band, the Carson Valley Pops Orchestra, and Dr. Worth & His Medicine Band. He has been known to play electric bass and valve trombone at the same time.
George retired from the band the summer of 2011 but had remained active in the Millennium Bugs and pick-up combos until he moved to Wisconsin in 2021.
**************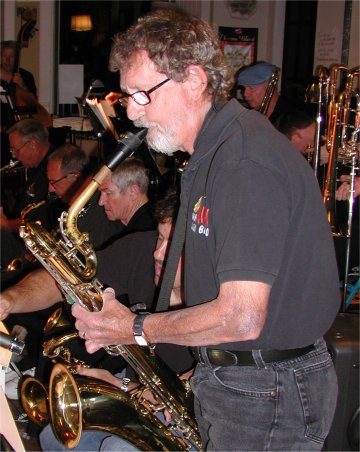 Gerry Wright - baritone sax - "Gerry on the Bari" came to Carson City in late 2000 from Oxnard, CA. His experience in Oxnard was as a member of a big band in which he played lead tenor for almost 20 years. During those years he fronted two small groups of six to seven men and vocalist, back when there was a lot of work. Being so close to Los Angeles, he got chances to play with some "heavy people." He learned a lot, despite no formal training. He remarks, "I just love to play. I have often said that when I go, I want it to be with a horn in my hands."
Gerry retired from the band in September 2009. He died Sept. 30, 2015.
**************