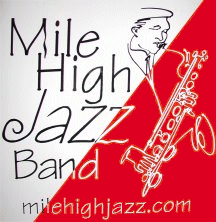 Features
"Jazz & Beyond: Carson City
Music Festival" (2016, 2017, & 2018)

Mile High Jazz Band Association
The Mile High Jazz Band Association formed in 2001 as a nonprofit corporation to support the MHJB and its subgroup, the Millennium Bugs (jazz combo), promote live jazz performance in northern Nevada, educate the public about jazz, and enrich the cultural life of the community. Member benefits include mailings, discounts on admissions, and invitations to special events, plus the satisfaction of helping big-band jazz to thrive!
To book the Mile High Jazz Band (big band) or Millennium Bugs (jazz combo), call 775-883-4154.
The page for the 2022 Open Studios Tour has
moved to the JazzCarsonCity.com website.
Click HERE to go to it.
---
Fourth Annual Carson City Open Studios Tour
A Jazz & Beyond Art Event, August 19-21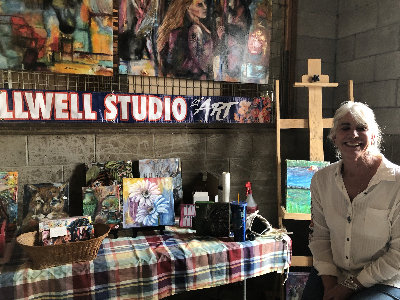 The 2022 Jazz & Beyond Music and Art Festival this August will include the fourth annual Carson City Open Studios Tour on Friday, August 19, 12 to 5 p.m., at the Bliss Mansion and the NAA Gallery, and Saturday and Sunday, August 20 and 21, 10 a.m. to 4 p.m., at multiple studios throughout Carson City.
This admission-free, contemporary cultural event will showcase about 30 local artists, presenting a wide variety of exceptional visual art and art demonstrations, from painting, sculpture, and 3D art to jewelry and photography, in about a dozen individual and shared studio spaces. Some locations will include live music.
A work by each artist selected for the Open Studios Tour will also be exhibited in the Summer Show at the Nevada Artists Association Gallery, July 30 to September 9. The public is invited to meet the artists at a reception at the Gallery on Sunday, August 7, from 2 to 4 p.m.
A list of artists with a map of studio locations will be available. For more information and an application for artists who want to participate, see milehighjazz.com/arttour2022.htm, or email CCOpenStudio@gmail.com.
The Open Studios Tour art event is presented by the Mile High Jazz Band Association as part of the 19th annual Jazz & Beyond Music and Art Festival and is supported in part by grants from the Carson City Cultural Commission, the Nevada Arts Council and the National Endowment for the Arts, and private donations.
Attached photo: Artist Maggie Stillwell discusses her work with visitors at the 2021 Open Studios Tour.
Application form

Click here for application form. Application must be completed by May 17, 2022.